Just received word that my cousin Michele gave birth to a baby girl today — on MY birthday!!!! (Actually, now that the baby was born, I guess it's
OUR
birthday now).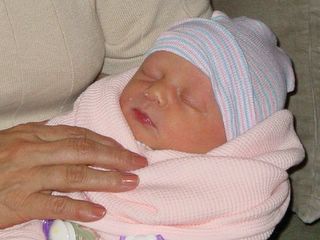 Baby Liele. (03/05)
Baby Liele, although a little early, is doing well. She weighs 7 lbs, 2 oz. and is 19" long (I've always wondered why people mention how long a baby is ... you'd think the more impressive measurement would be how
wide
the baby is).
Both mommies Michele and Lisa are doing well too. Michele had a C-section, and will be recuperating in the hospital for 5 days before going home.
In case you didn't already know, I spent so much time with my cousin growing up, she's like a sister to me (and now, so is Lisa). So that's why we're happy to be Uncle Jimmy and Uncle Tim!
Congratulations Michele, Lisa and Liele!
P.S. - Shel and Lisa, from here on out, you'll never have another excuse for forgetting my birthday again! ;-)